NetStand
WebInfra NetStand provides Internet for your customers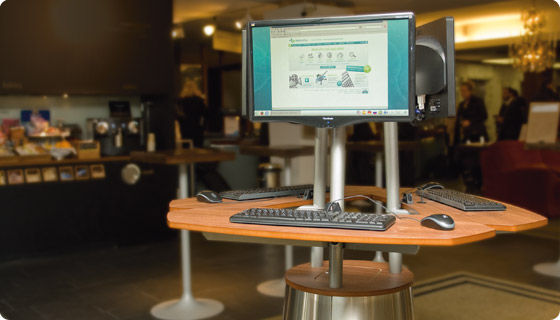 NetStand in the lobby of a hotel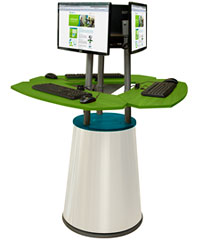 WebInfra personalized 3-seated NetStand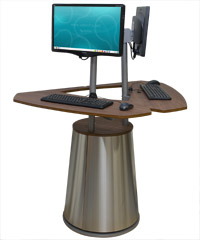 Basic 2-seated NetStand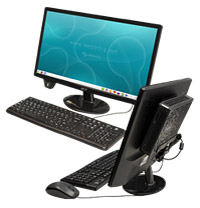 NetStand Lite
WebInfra NetStand is an inexpensive and user friendly Internet terminal. It is ideal for busy and crowded places such as hotels, lobbies, waiting rooms, cafeterias, restaurants, exhibition centers, etc.
NetStand's pricing comprises a fixed monthly fee which includes full service - from installation to maintenance. There are no hidden or extra fees – the customer only needs to provide electricity and an Internet connection for the unit. No specific Internet operator is required.
NetStand improves customer enjoyment and satisfaction and leads to increase in sales
Why WebInfra NetStand?
Easy acquisition – a monthly fee without any initial investment
Reliability – maintenance and support are included
User friendly – a simple and stylish user interface with plenty of language options
Security – up-to-date firewall and automatic clearing of previous user's history
Income potential – an option to collect user fees, the screen savers can be customized to display advertising content
Flexibility – different models suit different premises - NetStands range from a single user table model to a three user standing terminal
A solution that works
WebInfra NetStand-terminal has received excellent feedback from our customers:
Our reception staff is very pleased to see that our customers have found their way to this self-service area. The presence of NetStand made a notable reduction in their workload. The customers can use the NetStand independently for viewing web pages, information retrieval, and printing – for all kinds of tasks that previously loaded the reception personnel.
The NetStand is a perfect solution for us because it is always available for the customers - our NetStand is actually its own service outlet. We have a lot of foreign customers who really appreciate the different language options as well. NetStand has proved to be an excellent service for us and we have been very pleased with the product and its reliability.
– Hotel Manager of Sokos Hotel Presidentti, J.Sundqvist
NetStand Lite
Lightweight customer comfort for improving atmosphere
The NetStand product family also consists of a single-seated NetStand Lite. NetStand Lite fits almost any kind of space due to its low noise level and small size. NetStand Lite has proven to be effective in hotels, cafés and pubs but also ideal for lobbies and waiting rooms.
Customer satisfaction is guaranteed by multilinguality, safety and reliability. The operating system is maintained through remote administration, so the customer does not have to worry about updates. Untrusted sited are blocked by pre-installed filters which ensures the best user experience for your entire customer base.