Survey
Tailored customer questionnaires and surveys
WebInfra Survey is a perfect service for getting the customers opinions. You can make versatile customer questionnaires and surveys easily straight from your browser. Results of the survey are easy to analyze by filtering answers with defined criterias. You are able to target interesting results and react to them quickly.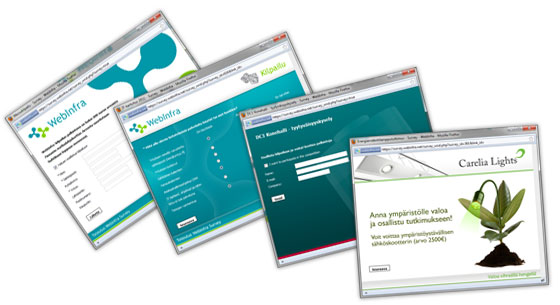 A tailored layout improves attractiveness of the survey while marketing the company brand
Any kind of survey - quickly and without effort
You can create questionnaires and surveys straight from your browser. Both the layout and the content of the survey can be fully tailored by the user. Completed surveys can be linked on a company webpage or alternatively the survey link can be sent to desired recipients (customers, employees, partners etc.) by e-mail.
Survey as a tool for sales and customer care
Survey is an excellent tool for getting sales leads. You are able to perform needs analysis and surveys that brings potential customer contacts for sales. Recipients matching specified criterias can easily be transfered to the Customer service as potential customers. In addition you can set the service to notify about new survey responses by e-mail or SMS. Versatile Survey is a perfect choice for supporting sales and customer care.
Survey usage for example:
Opinion polls
Needs analysis
Competitions
Customer surveys
Trade fair questionnaires
Marketing surveys
Personnel surveys
Survey as a part of WebInfra
Like all WebInfra services, Survey is browser based and available wherever and whenever. Combined with other WebInfra services Survey is a seamlessly working efficient service package. Survey is developed continuously to be even more versatile based on user feedback.
Combined with NetStand terminal Survey makes a perfect tool for customer satisfaction surveys in trade fairs and lobbies.